Congratulations on your engagement!
And thank you for your interest in Arbor Crest Wine Cellars and the Cliff House Estate as the venue for your special celebration!
To experience our setting and explore our wedding services, tours are available by appointment and are scheduled for weekdays between 10am and 4pm. To schedule your tour, please contact Bridget Chapman, our Event Sales Manager, by phone (509-927-8571), by email, or simply fill out the Info Form below, including some dates that work best for you.
In the meantime, we hope you'll enjoy looking at our slide show of Wedding photos, and imagine the historic Florentine-style Cliff House, gorgeous gardens and grounds, picturesque vineyard, and unrivaled views of Spokane as the perfect romantic setting for your own wedding and reception.
Add in award-winning wine, exceptional amenities and excellent customer service, and you have a combination that creates a truly memorable marriage celebration, from a fairy-tale setting you can revisit together for years to come!
More details on our wedding package are outlined below. For further information, including our Wedding brochure, available dates and pricing, simply click the "Open Info Form" button, give us a few details about your event, and Bridget will be in touch right away!
Thank you again for your interest in a wedding at the Cliff House Estate. Please enjoy the photo galleries below, and for even more pictures of Arbor Crest Weddings – please visit our Pinterest or Facebook pages!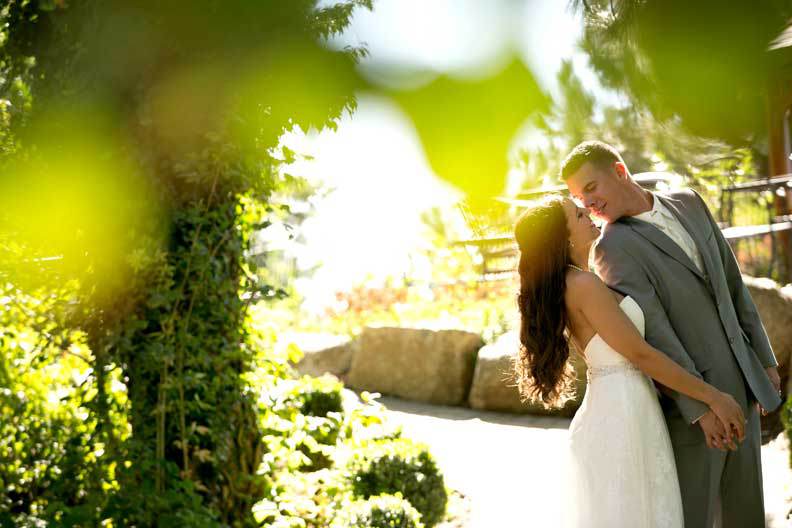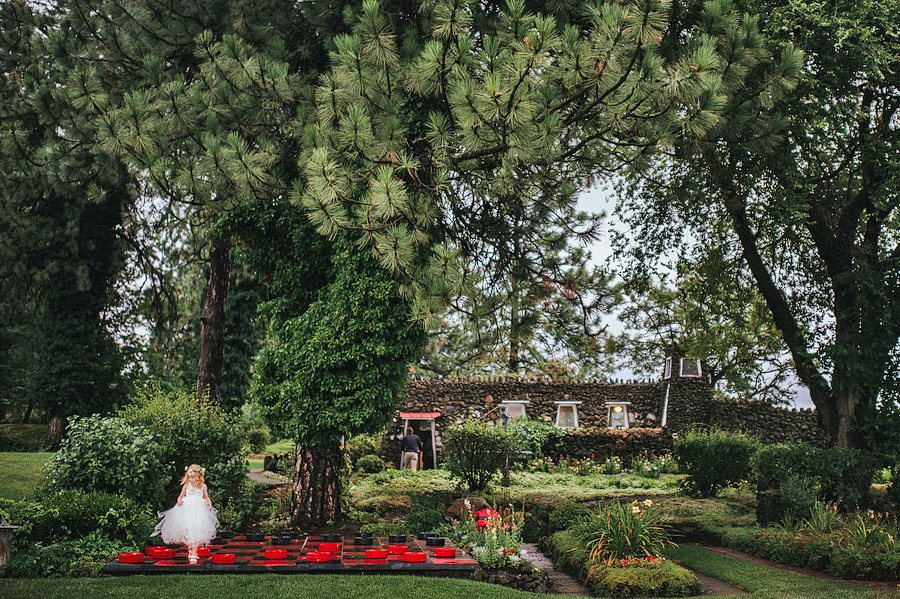 OUR PREMIUM ESTATE GROUNDS PACKAGES INCLUDE:
Four acres of gardens and grounds for you and your guests to enjoy
Locations available for ceremony, social hour and reception
Patios with bistro tables, chairs and umbrellas
A 9-hour reservation with up to 5 hours for event time, including ceremony and reception (please see "Business Hours & Wedding Times" below)
Complimentary Arbor Crest wine tasting to assist you with your selections prior to your event
A 15% discount on all wine purchased by the contracted party on the day of your event
Rehearsal and ceremony coordination
Early access on the day of the event for set-up, deliveries and photos
A scheduled one-hour rehearsal prior to the event
A bridal dressing room
20x20 tent at the head of the path for your guest book and gift table
A 5,000 sq. ft. Vineyard Tent, an ideal Reception space. Also available in the event of inclement weather
Tables and chairs for up to 150 guests, including:
300 plastic white folding chairs (150 ceremony/150 reception)
19 round tables (5', seats 8-10 guests)
10 cocktail tables (3' each)
12 rectangular tables (8' each, for buffet, bar, head table, gifts, guest book, DJ)(additional equipment may be rented to accommodate larger groups)
Wine barrels available for event use
Licensed Arbor Crest staff for bar setup, service and breakdown
Security personnel
One Arbor Crest staff member for Tasting Room support
Ample free parking
Restroom facilities
The following items, services and amenities are priced separately and are not included in the Estate Grounds Package:
Arbor Crest wines, event services, catering services and rentals — including additional tables and chairs, table linens and napkins, dish ware, flatware and glassware.
CHOICES FOR WEDDING & RECEPTION SITES INCLUDE:
The Enchanted Forest is to your immediate left as you enter the grounds. The Enchanted Forest's natural beauty, vine-covered evergreens and shade create a perfect fairytale location for your ceremony. (Capacity: up to 300 guests)
The Vineyard Tent — which overlooks our grape arbors, the Spokane Valley and downtown Spokane — is an ideal Reception space. The 5,000 sq. ft. Tent is also available in the event of inclement weather. (Capacity: up to 225 guests for a reception; additional seating on the Vineyard Lawn increases capacity)
The Estate Courtyard, which includes the Croquet Court and the Event Stage, extends from the Gate House to the historic Florentine-style Cliff House. The Estate Courtyard boasts views of the Spokane River Valley, Spokane Valley and downtown Spokane, and offers space for a ceremony, social hour or reception. (Capacity for the Courtyard: up to 300 guests for a social hour or reception; ideal conditions are mid-June to July. The Croquet Court can accommodate up to 130 guests for a ceremony. The Event Stage can accommodate up to 300 guests for a ceremony.)
Accommodation numbers listed above are based on prior events; capacity will vary based on how space is to be used for a dance floor, buffets, bar, cake table, etc. Please consult the Event Sales Manager and your caterer for capacity estimates based on the plans for your specific event.
Arbor Crest provides tables and chairs for up to 150 guests. Additional seating may be rented to accommodate larger groups.
WINE, BEER AND ALCOHOL:
We are proud to feature over 15 award-winning Arbor Crest wines for you to select from for your event.
A complimentary wine tasting in advance of your event is included in your package to assist you in your selections. Our Wedding package includes a 15% discount on wine purchased by the contracting party on the day of your event. Bottled beer, along with handcrafted beer from Square Wheel Brewery (founded by our winemaker's brother), is also available to be served at your event.
All wine and beers are served by Arbor Crest staff and are billed based on consumption at the conclusion of the event. Additional services for a no-host "cash" bar are available. If interested, please ask the Event Sales Manager for details; additional fees will apply. Glassware, including wine glasses, are not included in the venue prices. Glassware may be rented through Event Rents.
Arbor Crest wines, Square Wheel Brewery beers and bottled beers purchased at Arbor Crest are the only alcohol permitted on the Arbor Crest Estate. Due to state licensing regulations, hard liquor and outside alcohol is strictly prohibited on the grounds (which includes the parking lot and the Cliff House mansion). You are responsible for alerting your wedding party, families and guests of this in advance.
MINORS AND SECURITY:
Minors are permitted on the Arbor Crest Wine Cellars Estate for private events only. Minors must be supervised at all times, and due to safety concerns, certain areas of the grounds are off limits to minors.
Security is mandatory for all events after business hours, any event with 50 or more guests and any event where minors will be present. All weddings at Arbor Crest include required security services and are scheduled at Arbor Crest's discretion.
EVENT SERVICES & CATERING:
Our preferred caterer is the award-winning business, Catered for You. Arbor Crest has partnered with Catered for You for many years and can testify to the fact that all members of their sales team are trained event planners who take great pride and satisfaction in attending to the tiniest of details. They can provide you with a personalized proposal that can range from tasteful and simple to decadent and unique. When planning a wedding, it is common to feel nervous as there are so many elements to consider — you can rest assured that Catered for You will have every detail under control!
Their professional services include:
Personalized Menu Creation
Wedding & Event Planning
Securing rentals through Event Rents, our exclusive rental company
Assisting with any additional outside services
Complete Food & Beverage setup and service
Complete site setup, cleanup, and breakdown
Linette Herrera, Vice President of Catered for You, can be reached at (509) 624-9686 or by email at linette@cateredforyou.com.
PLEASE NOTE: Full service catering is required for weddings at Arbor Crest. Due to the nature of our grounds and the requirements related to catering, the caterer MUST be on the Arbor Crest-approved catering list. In addition to Catered for You, the following exceptional caterers are also approved to cater weddings at the Cliff House Estate:
BUSINESS HOURS & WEDDING TIMES:
Arbor Crest Wine Cellars is open to the public daily as follows:
October thru April:
• Daily, Noon-5pm
• Thurs & Fri, Noon-8pm
May thru September:
• Daily, Noon-5pm
• Thurs & Sun, Noon-8pm
(Sunday wedding dates available in October only)
The time window for Wedding Day reservations is 2pm to 11pm. The 2pm start time offers early access for the bridal suite, vendor deliveries, setup and photos. The hours from 5pm to 10pm offer you and your guests exclusive use and enjoyment of the grounds, allowing five hours for the ceremony and reception (commencing no earlier than 5pm). All aspects of your event — including music and bar service — must conclude by 10pm. The final hour, from 10 to 11pm, is required for event cleanup and breakdown.
PAYMENTS AND RESERVATIONS:
For information on prices, available dates and reservation deposits, please give us a few details by clicking the "Open Info Form" button above, or contact our Event Sales Manager, Bridget Chapman (509-927-8571 or bridget@arborcrest.com). She'll be in touch with you right away to answer all your questions!